ORCA Commercial Partner Details: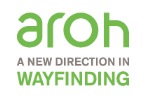 Aroh Inc
At Aroh, we have redefined the traditional processes for specifying, designing, and implementing Wayfinding solutions into an efficient and seamless, all in-house, one-stop framework, that will make your job easier, help free up your valuable time, and remove all the worry.
Immersed in the industry for over 25 years, we leverage the expertise gained from every unique project in our portfolio, including now over 300 Senior Living and Long-Term Care (LTC) projects across Canada. In turn, we will offer you the most well developed best-practice knowledge and solutions possible. Throughout the design and specification processes, we also consider all operational needs for both residents and staff, to ultimately create a beautiful, safe and enjoyable environment, that also functions smoothly for all.
Always leading with our core mission of 'Wayfinding Where Design Matters', our signage is 100% custom designed, and always manufactured with the commitment of delivering high quality hand-crafted products that transform into 'Functional Art'. Result, all signage will harmoniously integrate with the overall Interior Design vision of the project, while also meeting all your other Wayfinding goals. Every project is unique, and equally matched are our cohesive efforts, so you always receive exceptional one of a kind solutions along with the best value and return for your investment.
Beyond, at Aroh we have an incredibly deep understanding of mandatory requirements such as building codes, regulations, and the Accessibility for Ontarians Disabilities Act (AODA). No matter what your market-space and project needs, we will guide and assist you through all the essential details and steps in the process to ensure compliance and approvals, for all stages of inspection and occupancy. Last, we will coordinate and schedule our professional install team for the final on-site visit to complete your project, no matter what your location in Canada. We professionally manage your project from start to finish, so that you don't have to.
As the leaders in the Signage and Wayfinding industry, and experts in Senior Living and LTC markets in Canada, when you partner with Aroh as your preferred Signage Consultant, you will experience 'The Aroh Difference', beginning to end…and every step of the way!
Contact Information
Mike Wheldon, President, mike@arohinc.com
Paula Bloodsworth, Business Development, Paul@arohinc.com
Jennifer Drive, Manager of Operations